With this script, you can quickly create a list of colours you use in a selected object or a group of objects. The ColorList combines an action and a script for Adobe Illustrator. In this blog post, I want to explain how to install and use it. Below is the video with a short introduction to how this feature works.
But before I start, I want to say that you'll find another script here. In the ColorListAllinOne.jsx, I included the ColorListAction.aia in the script. The advantage of this script is that you only need to install the script. A disadvantage is: you only can run the script through the menu command File > Scripts > ColorListAllinOne.jsx. So be careful; if you call this script from any form of action, it will freeze your application.
If you are like me and prefer to call scripts through shortcuts, stick to the ColorList.jsx and the ColorListAction.aia. Below I guide you on how to install these files on your computer.
In order to use this feature, you need to download the files here. You'll get a ZIP folder. After unzipping the folder, you'll get a folder with two files: ColorList Action.aia and ColorList.jsx.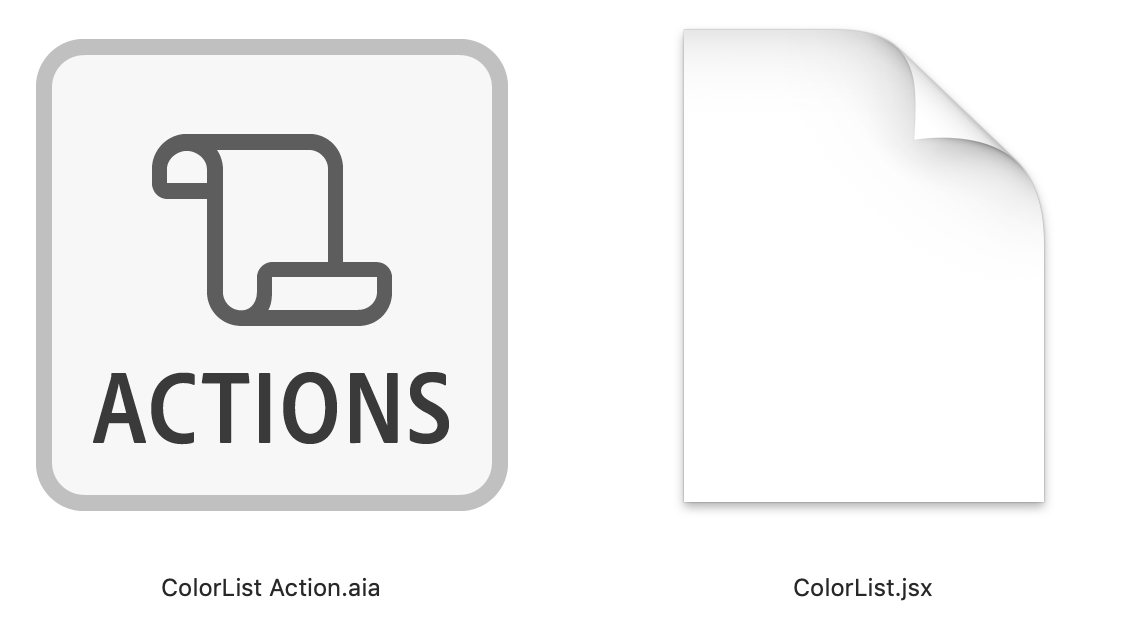 Action (ColorList Action.aia) file
Step 1: Action.aia file
To begin with, save the ColorList Action file in some directory on your computer. To be sure to find it again, I suggest saving it in the Adobe Illustrator Actions folder.
Windows
C:\Program Files\Adobe\Adobe Illustrator CC 2020\Presets\en_US\Actions
Mac-OX
/Applications/Adobe Illustrator 2020/ Presets/en_US/Actions
Step 2: Load Action
Next, open the Actions Window in the Adobe Illustrator application. If it's not open, you can easily find it. Navigate to Windows in the top bar of Illustrator and choose Actions from the drop-down menu.
When the Actions window opens, click on the burger bar in the top right corner and choose Load Actions from the drop-down menu. The picture below illustrates this.
Create a List of Colors from a Selection. Record an action.
Afterwards, navigate to the folder where you saved the ColorList Action file and open it.

As a result, you can see the action ColorList appears in the Actions window. We are almost there, but I would like to apply some custom options for a better workflow.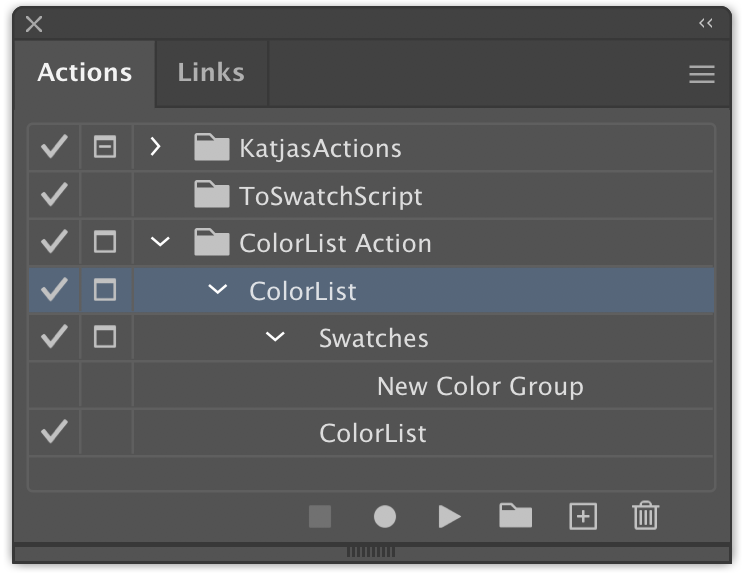 Step 3: Action Options
For a better workflow, you can change some options in order to use Hot Keys and Actions Button mode. Additionally, you are very welcome to read my post about how to record an action in order to run a script here.
With the ColorList action selected in the window, click the burger icon in the top right corner of the Actions window. Select Action Options from the drop-down menu as shown in the picture below.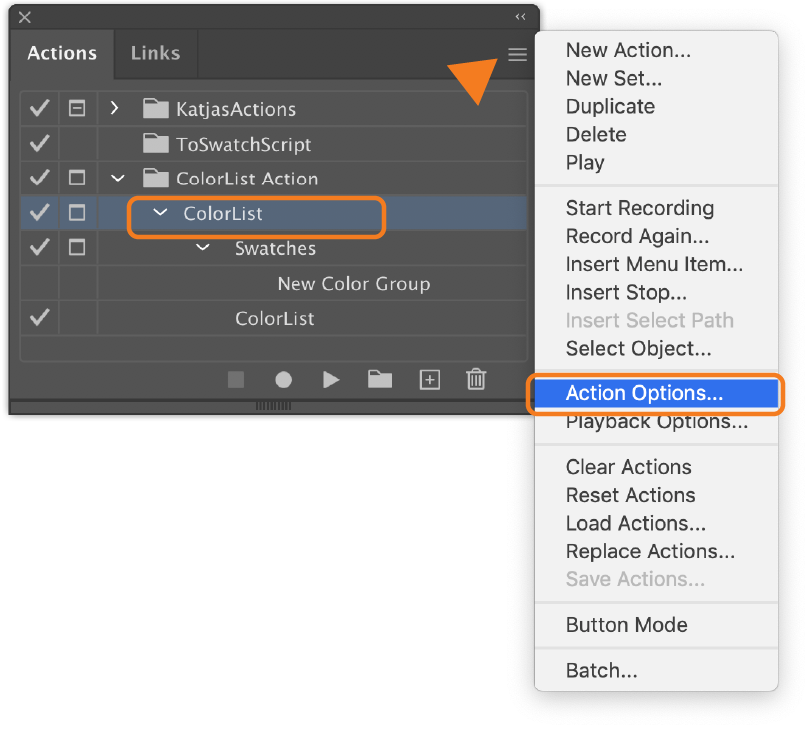 Accordingly, the Action Options window opens, and you can set your preferable settings for a Function Key as well as choose a Color for the Button View.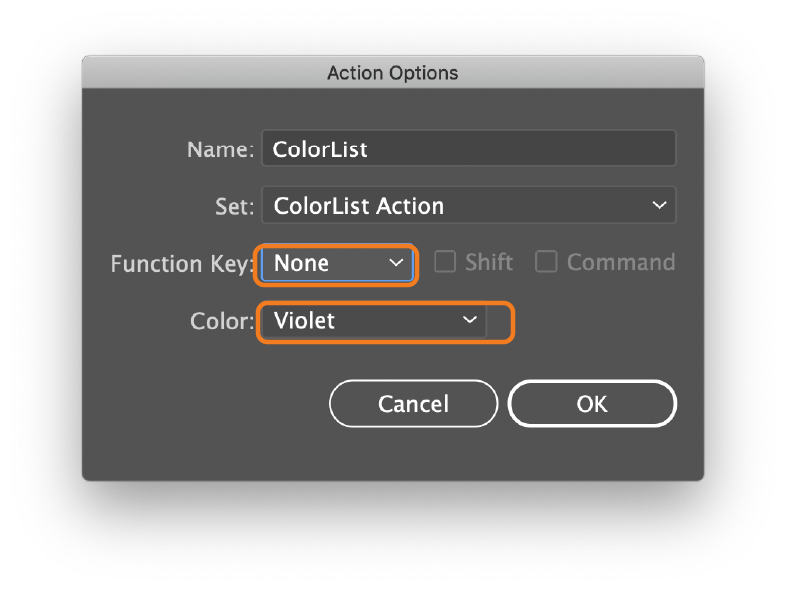 ColorList.jsx
Now it's time to save the script file ColorList.jsx file. In order to make the action work, you must save it in the Adobe Illustrator Scripts folder. Be aware that my path can vary slightly from yours.
Windows
C:\Program Files\Adobe\Adobe Illustrator CC 2020\Presets\en_US\Scripts
Mac-OX
/Applications/Adobe Illustrator 2020/ Presets/en_US/Scripts
After all, is done, restart Adobe Illustrator.
Run the ColorList Action
Finally, you can try the Color List script/action. Always start by selecting the object you want to execute colors from. In fact, there are three ways to run the action.
In case you followed the instructions in step 3, you can use the quick way to create a list of colours by pressing the Function Key you assign to the ColorList action.
Else: Open the Action window and switch it to the Button Mode, as shown in the picture below. Therefrom, you can just press the right button.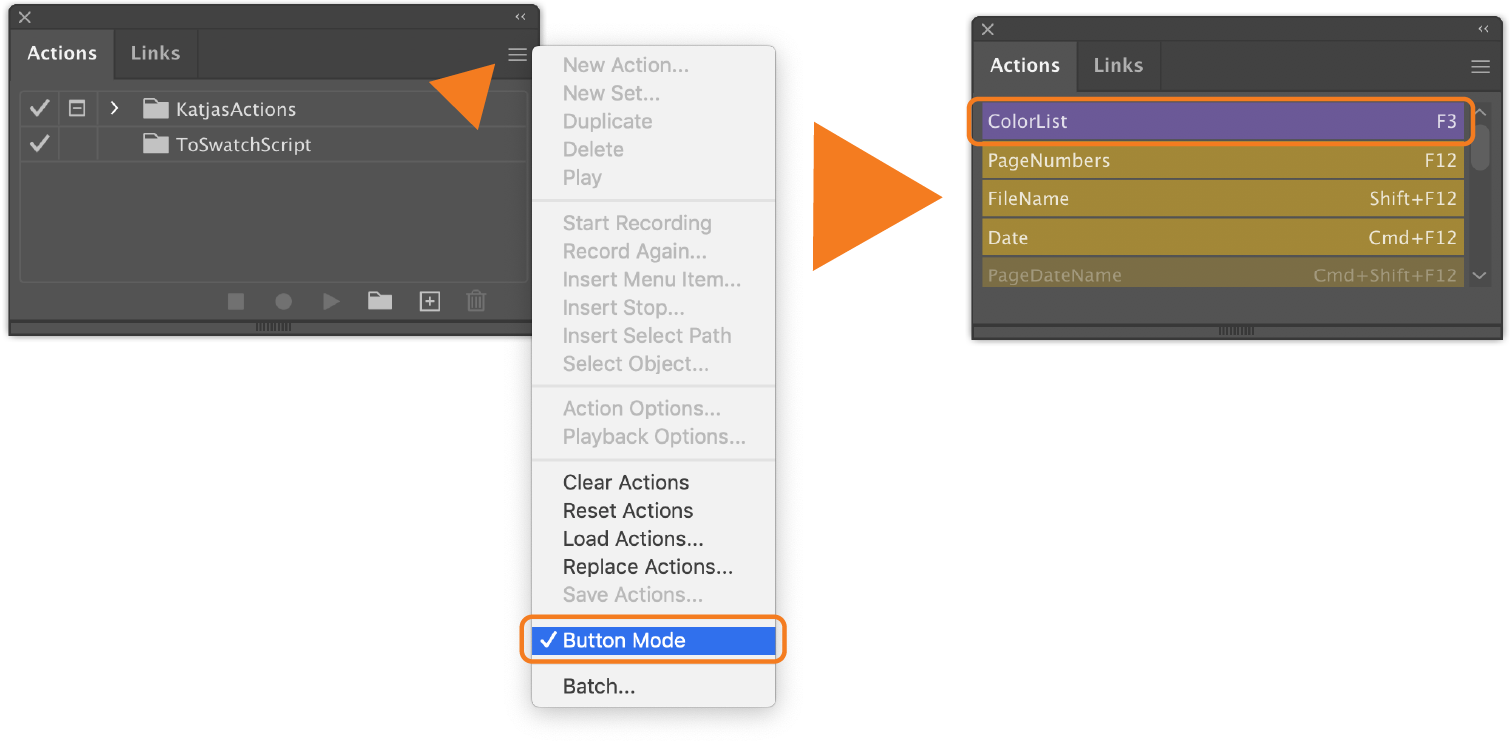 Or, with the Action window opened, choose the ColorList script and then press the Play Current Selection button, as I showed in the picture below.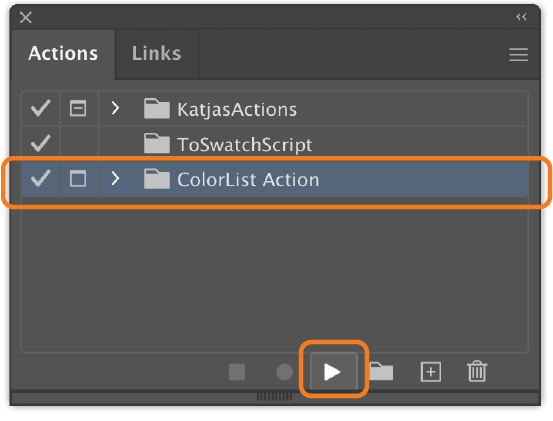 Custom Form for your Swatch Icon
Alternatively, you can replace the rectangle with your own shape. You can draw your own shape and name it "myForm" in the layers panel.

The next time you run the script, the rectangle will be replaced with your shape. Keep in mind that this only works for a regular path element, a group or compound path will not work.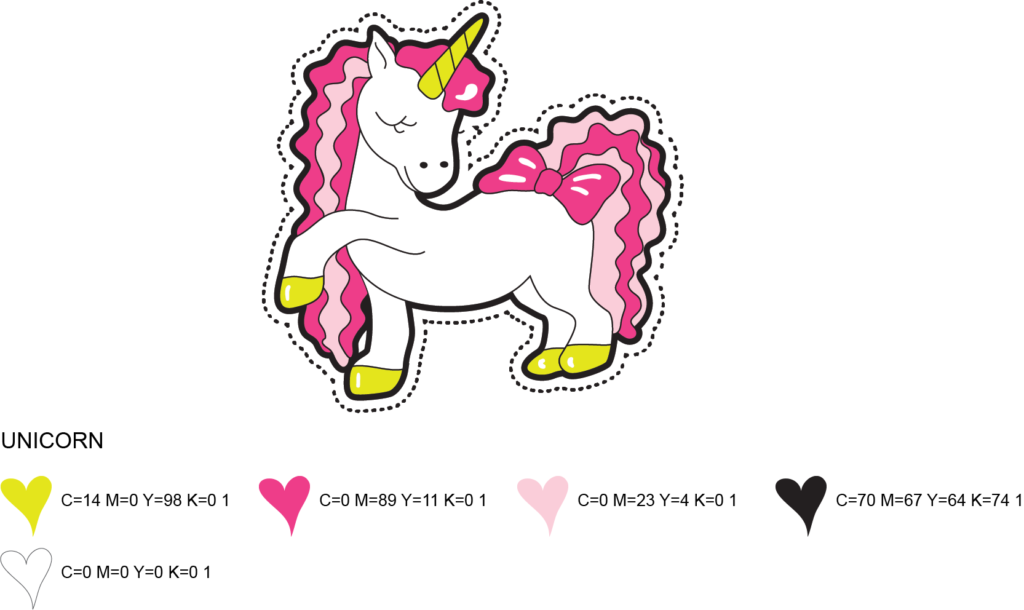 In the end, I want to make you aware that this script, unfortunately, cannot pull colors from placed or embedded images. This is due to the fact that Adobe Illustrator is just unable to extract colors from pixel images.
I hope you'll be happy with this script and find it beneficial in your everyday work. I'll be happy to hear your opinion and impression of it. I'll also be very pleased if you make me aware of some issues or if you have some ideas for improvement. So please, don't be shy to leave a comment or write me a message.