There is a big focus in our days on AI: How it works? What can we use it for? My husband, Esben, works with combining chemistry with AI and has his own
blog
(Danger! Nerdy stuff!). Together we decided to make a little experiment, and test if AI can enlarge a product photo better than doing the same procedure with Adobe Photoshops standard tools. We found a picture on pixabay.com and downscaled it to 50% of its original size. The number of pixels was thus reduced by 1/4th and information is lost. When this is then rescaled to its original size, some blurriness usually occur. We did this to simulate a common situation for graphical designers, where a product image is delivered in a too low resolution or size that it can be printed nicely.

For the AI up-scaling we used the neural-enhance project: https://github.com/alexjc/neural-enhance, which is also a quite interesting read. Below you can compare the results.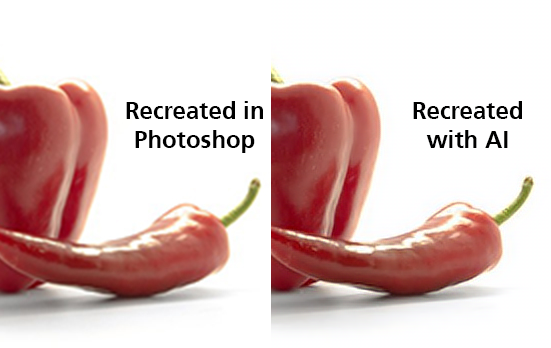 The Adobe Photoshop upscaled image is blurrier than the AI upscaled one, which have more details and sharper lines. As examples, look at the wrinkles in the stem, and the edge against the white background.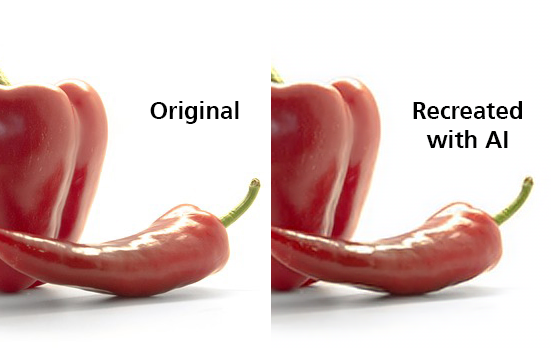 When the AI upscaled image is compared with the original, we can see that it is not a perfect reconstruction. The shape of the end of the stem is a bit different, and the white flecks on the smooth red skin is finer and sharper.
The artificial intelligence used in this example was trained on a lot of common images. Improvements could possible be obtained if it was retrained on specific types of images, in our case product images. The neural enhance page show some examples of recreations of faces using AI trained on pictures of faces, which are quite impressive! But for a very quick test our results are also quite good.
This is a simple, unscarry example where you can see how AI can improve results for graphic designers. Please let me know if you find this post useful and leave a comment.