With this blog post, I'll give an overview of the Pantone Connect extension. The most useful feature of this extension is ability to convert Pantone colors directly in your Adobe application. There are two reasons I thinks it's a good time to write about it.
1. It's Free until 1 of July
Due to COVID-19 help for designers Pantone Connect Extension is free to use the next month until July. It's a nice gesture from the companys side. You even don't need to give them your payment information. What I also think is very good. I though have a tiny little doubt about the red bar in the top of the extensions window. Here it says that I have trial period (it was for 7 days). It is counting down, so it'll be interesting to see what'll happen when it runs out of days. UPDATE:The red bar on the top with seven days trial despaired and extension still works. Nice!
2. Missing color swatches
The other reason is that I hear a lot of designers complaining about missing colors in the Pantone Color books palet, which always was included before as standard in Adobe Applications. The reason for that is that these books are not updated and I'm not sure if they ever will be. When a color is not present, we have to find it online.
Pantone Plus Adobe
Anyway, I think it'll be a pity if Pantone and Adobe will not come to an agreement.
My hope is that we could get:
a better integrated solution to convert colors to Pantone and from Pantone book to Pantone book
access to basic color books.
Even better: an option to choose some amount of color books, that can be included in Adobe license.
What do you think? How would your ultimative solution looks?
Pantone Software
My experience with Pantone digital tools always was a bit ambivalent. It was nice to get the right Pantone color books in Adobe applications. However, to work with the software was a challenge. I found the Color Manager a bit slow and somewhat buggy. It ended when I decided to drop it. Diplomatically speaking, there were many opportunities for improvement.
I'm planning to cover the Color Manager in a future post and perhaps compare Color Manager with Pantone Connect and Adobe Recolor tools. Anyway, I'll start with the Pantone Connect extension overview because you can try it for free in June 2019. I wish that you are going to test the feature and hope to hear your opinion and user experience with this software.
UPDATES
Well, I have some updates to this post.
The red bar on the top with seven days trial despaired and extension still works. Nice!
I had a plan to write a post about the Pantone Color Manager. But meanwhile, I had a talk with Pantone employees and have some news. In the next couple of years, The Color Manager will be replaced by Pantone Connect and will miss support.
There is one feature about the Color Manager, that I really like. The ability to place Pantone books as swatch palettes directly in Adobe Applications is a very handy feature, that gives designers a lot of flexibility.
But let us hope, that Pantone Connect will improve and will become an integrated tool in a designer's daily life.
If you have any remarks on how Pantone Connect can be improved, please send them your feedback by clicking on the Send Feedback option. Anyway, I supplied my comments to Pantone and I hope that they will see points in my contribution.
Pantone Connect Overview
You can find the Pantone Connect Extension here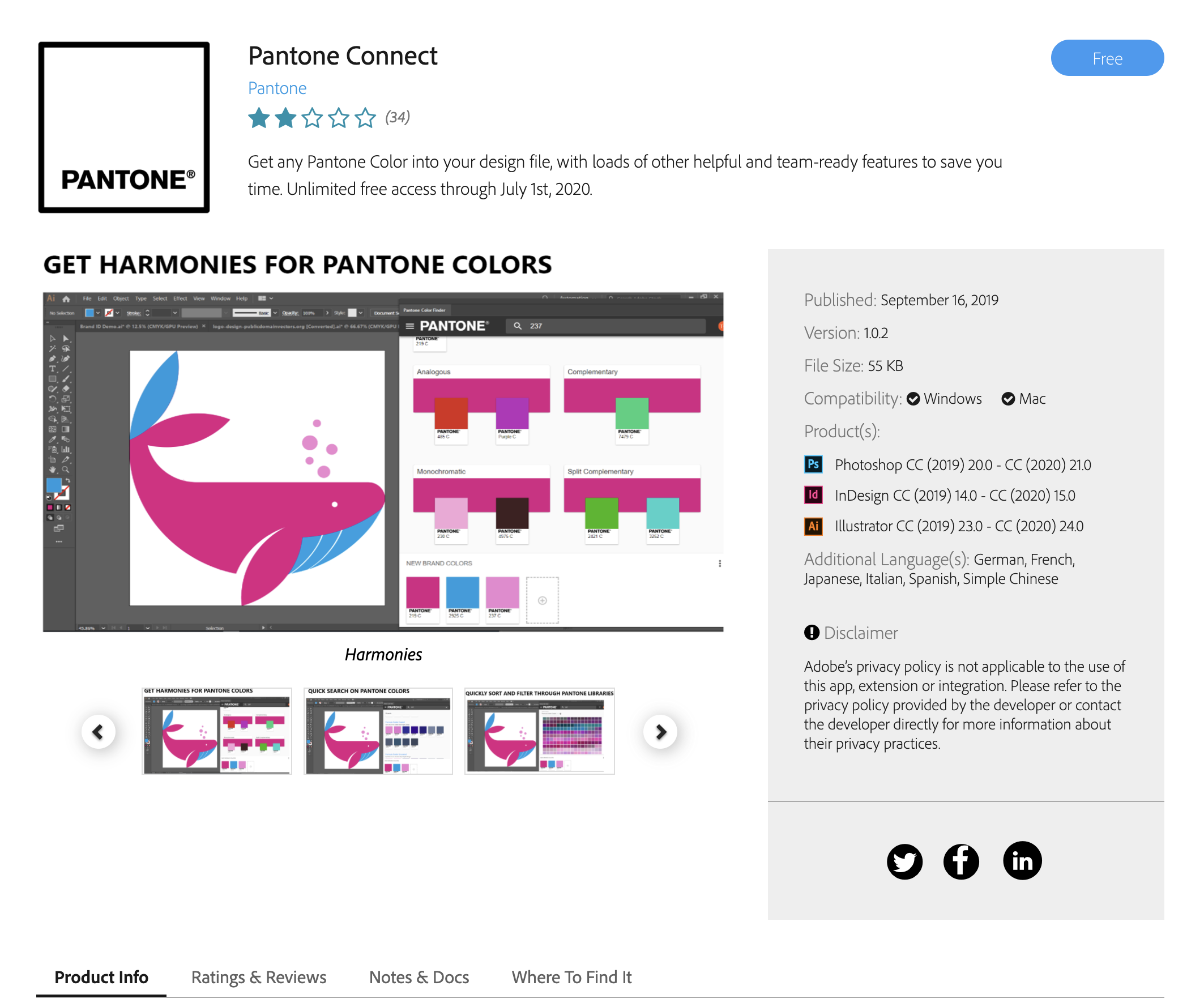 You'll find the information about installation, billing, etc. in Product Info and Where To Find. You can also see that the rating is not so high.
When you open the extension in your Adobe Application a registration will be required. And even if you have a registration with the Pantone site you must register again. It looks like another registration which is kind of strange. If you are familiar with Pantone online converter tool, this extension have some similar functions.
NB: Extension works only when you are online. That can be challenging for some designers.
For a better overview you can resize your extension window and hide and show the side and bottom bars. On the right side bar you can search for a color, choose hue, Pantone book, adjust Chip Size and Spacing. You can even choose 3D view, but it doesn't work as it's a Beta version.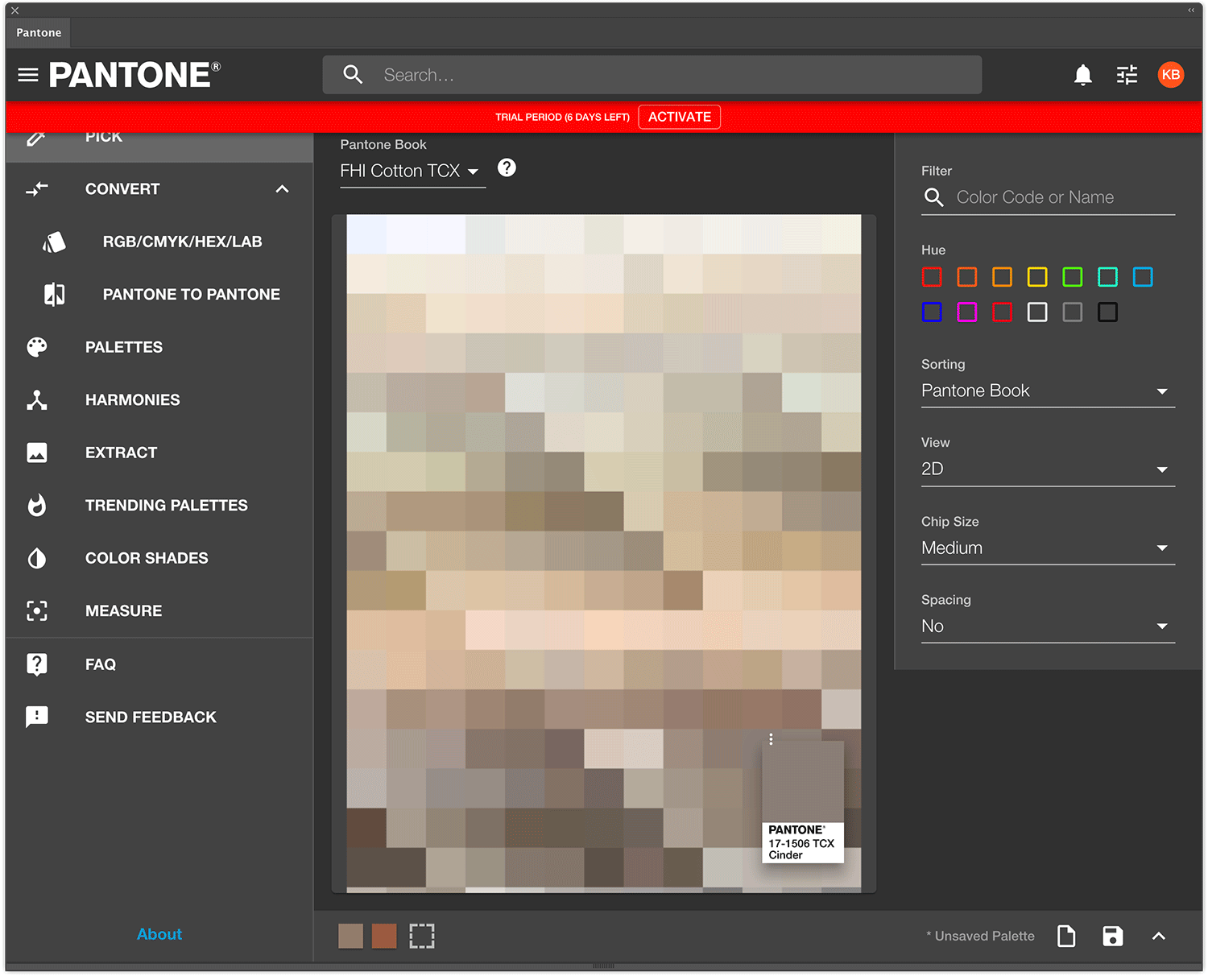 You can pick up a color and you can drag and drop colors to create a palette.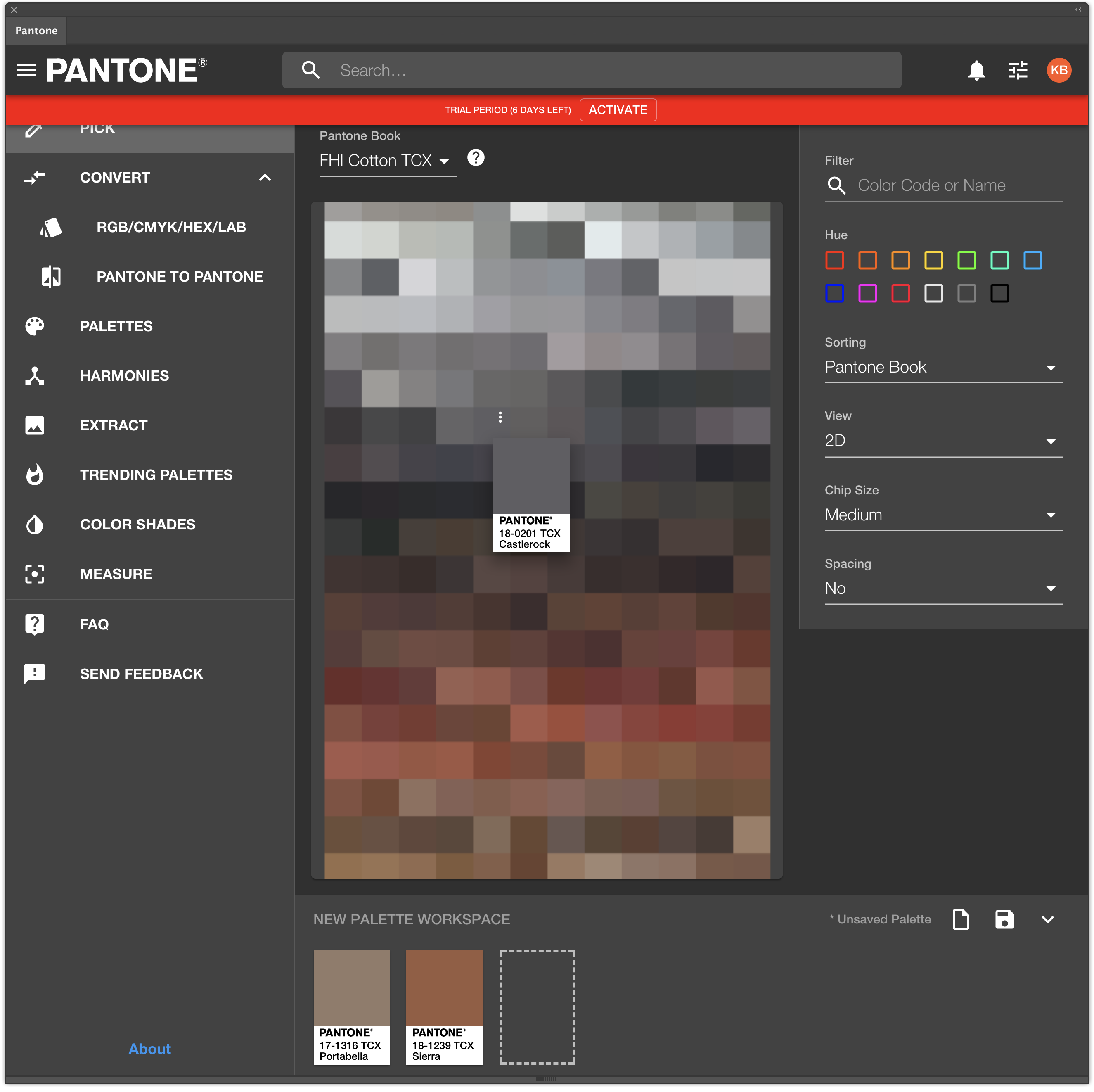 It could be logical to add the picked up color to your Adobe Swatches by clicking on it. But it's not the case. You can do it by right-clicking and choosing Add the Color to Swatches from drop-down menu. (On Mac I could call this drop-down menu by Option-Mouse Click, but it only worked here in Pick color mode.)
Another good function could be a possibility to import the whole palette to the swatches as a group, but this function seem to be missing.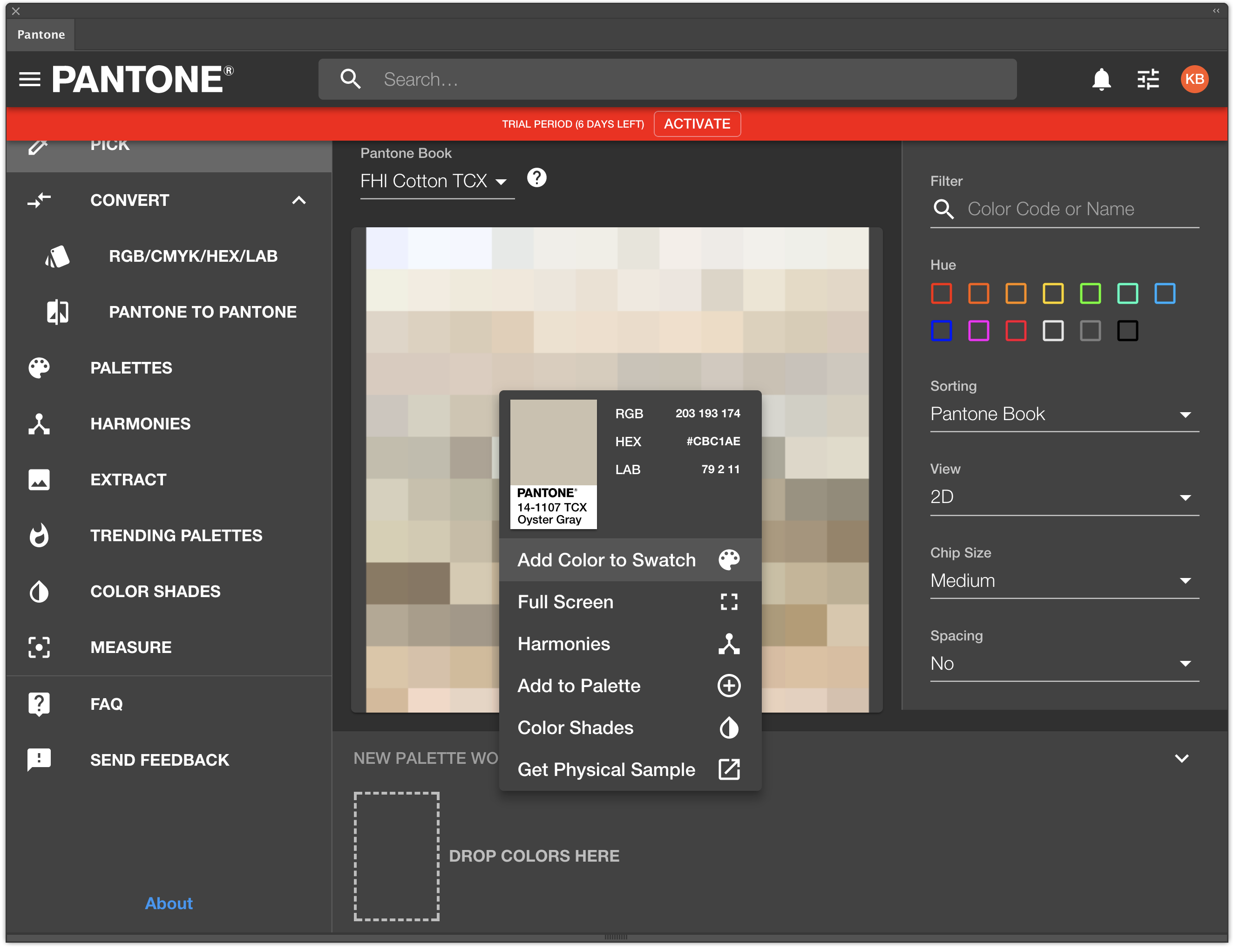 You can convert colors from RGB, CMYK, HEX, LAB to Pantone. It works like in the Pantone online converter tool, where you can choose from some alternatives. I like this function, but I still want to have only one click operation to add the chosen alternative to my swatches. (Option-Mouse Right Click didn't work in both Convert modes.) It can be even better if you could convert colors in a stack, without typing them individually.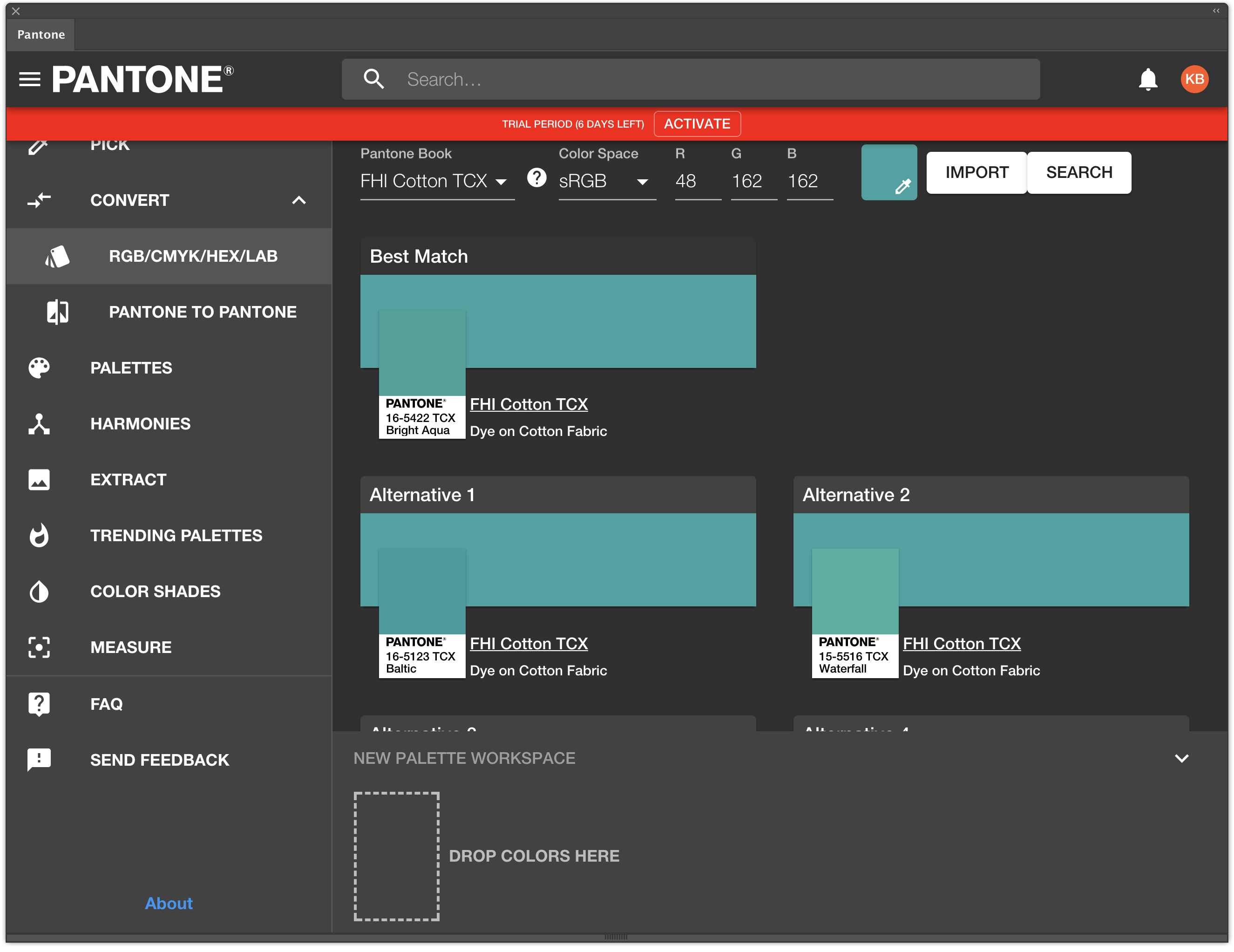 and from Pantone to Pantone. Nice to convert from C to TPX libraries.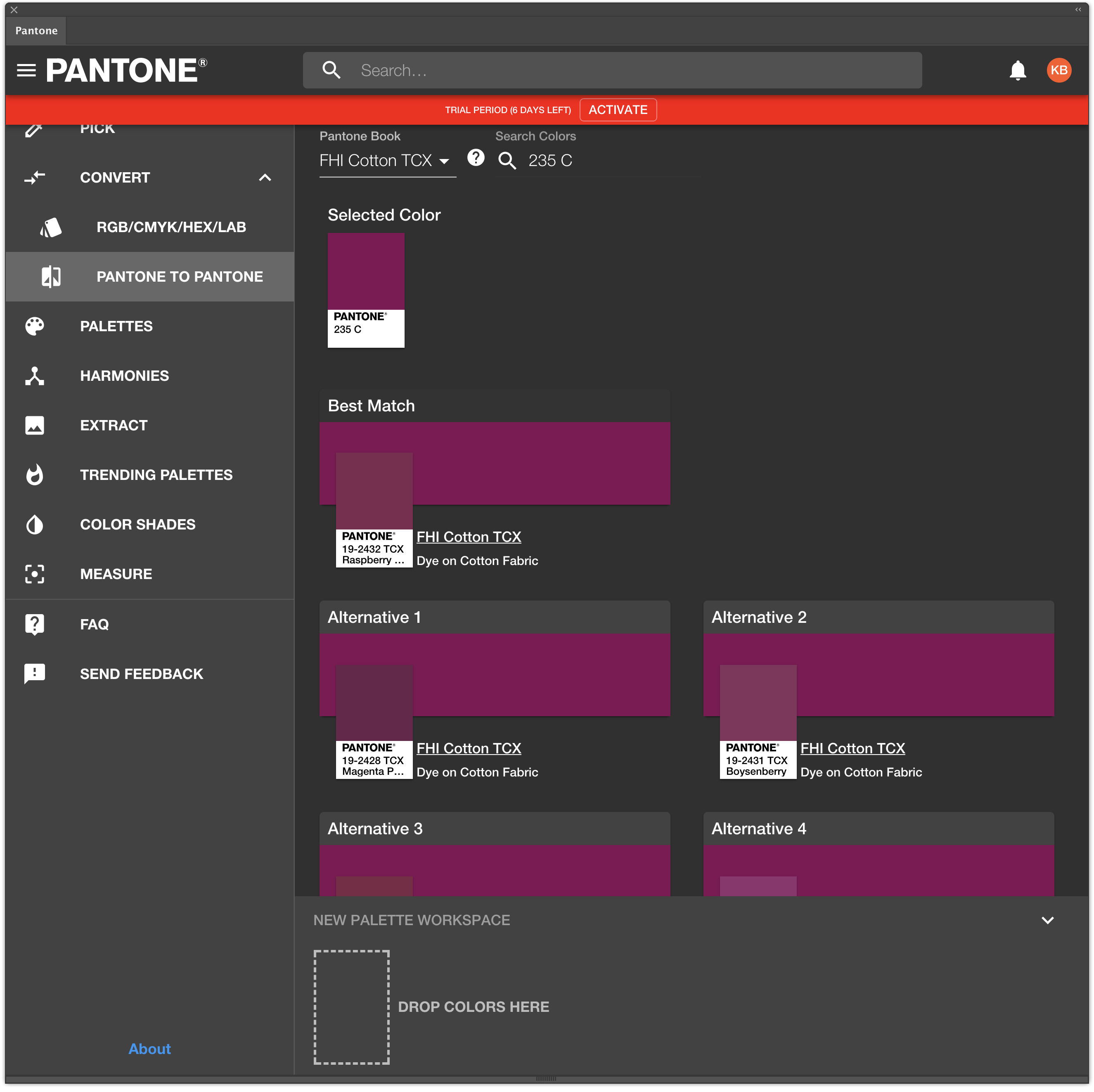 You can see your Palettes collection and you have an opportunity to share them with your collaborators.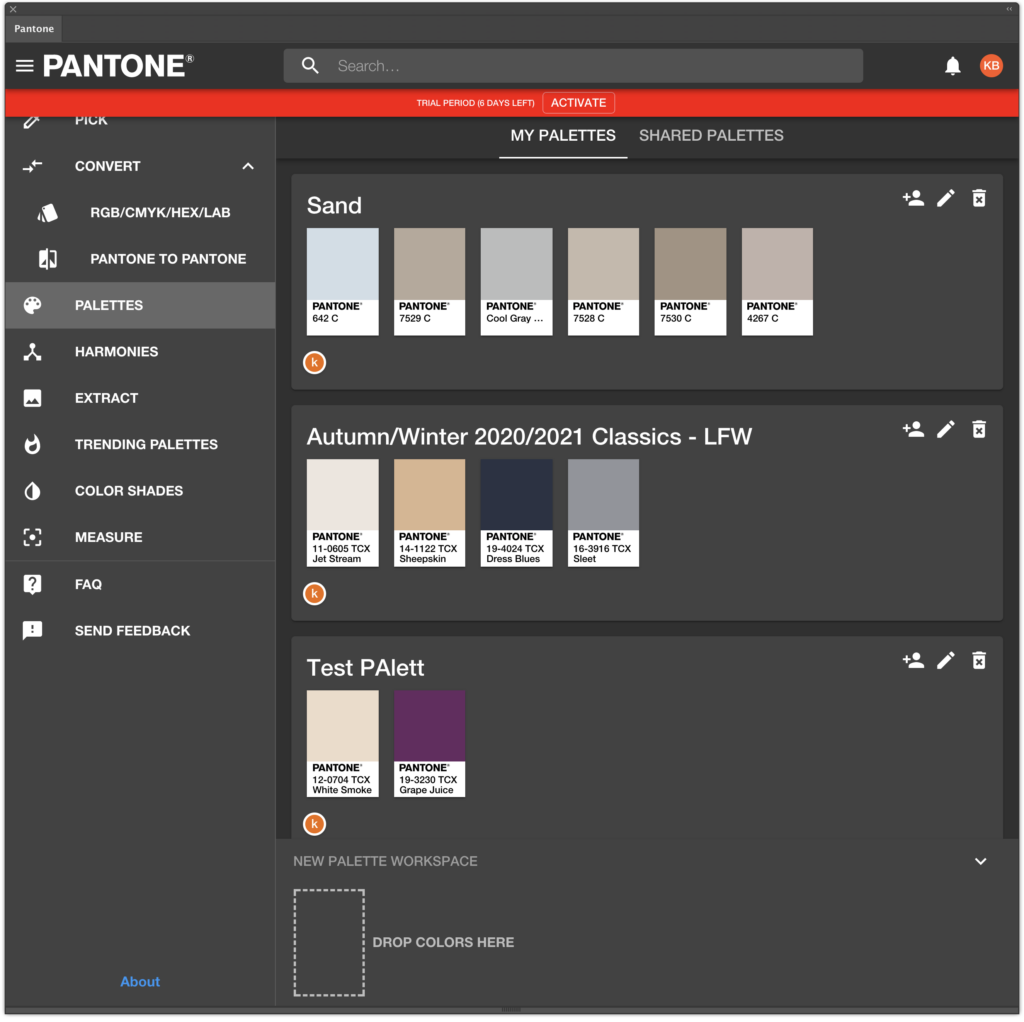 You can search for Harmonies. And here again, I think the nice option of "click-add" the chosen harmony to swatches will be useful.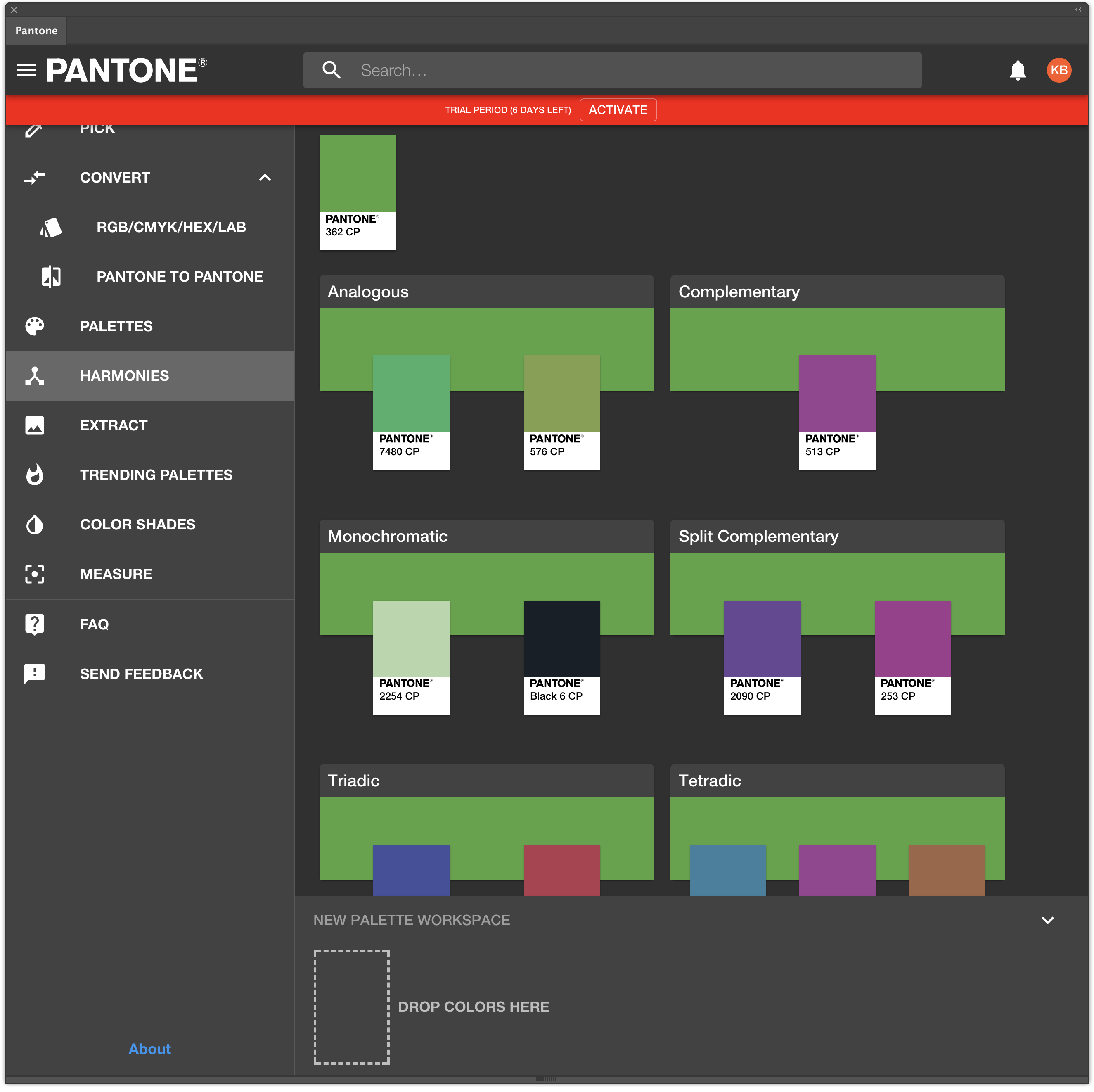 You can extract colors from a photo. But if you want to upload your photo through upload new image button the jpg images are disabled, while you still can drag and drop them.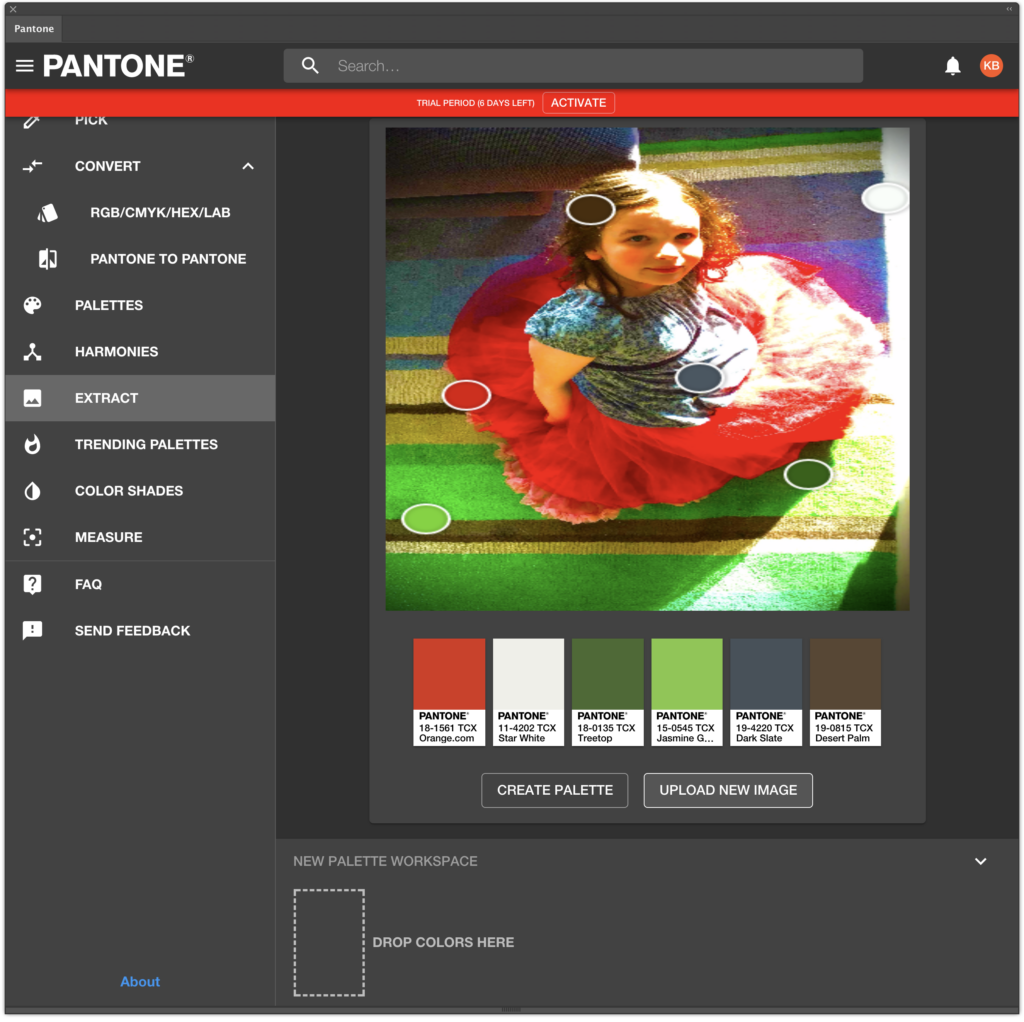 You have an opportunity to find some color trends in trend palettes.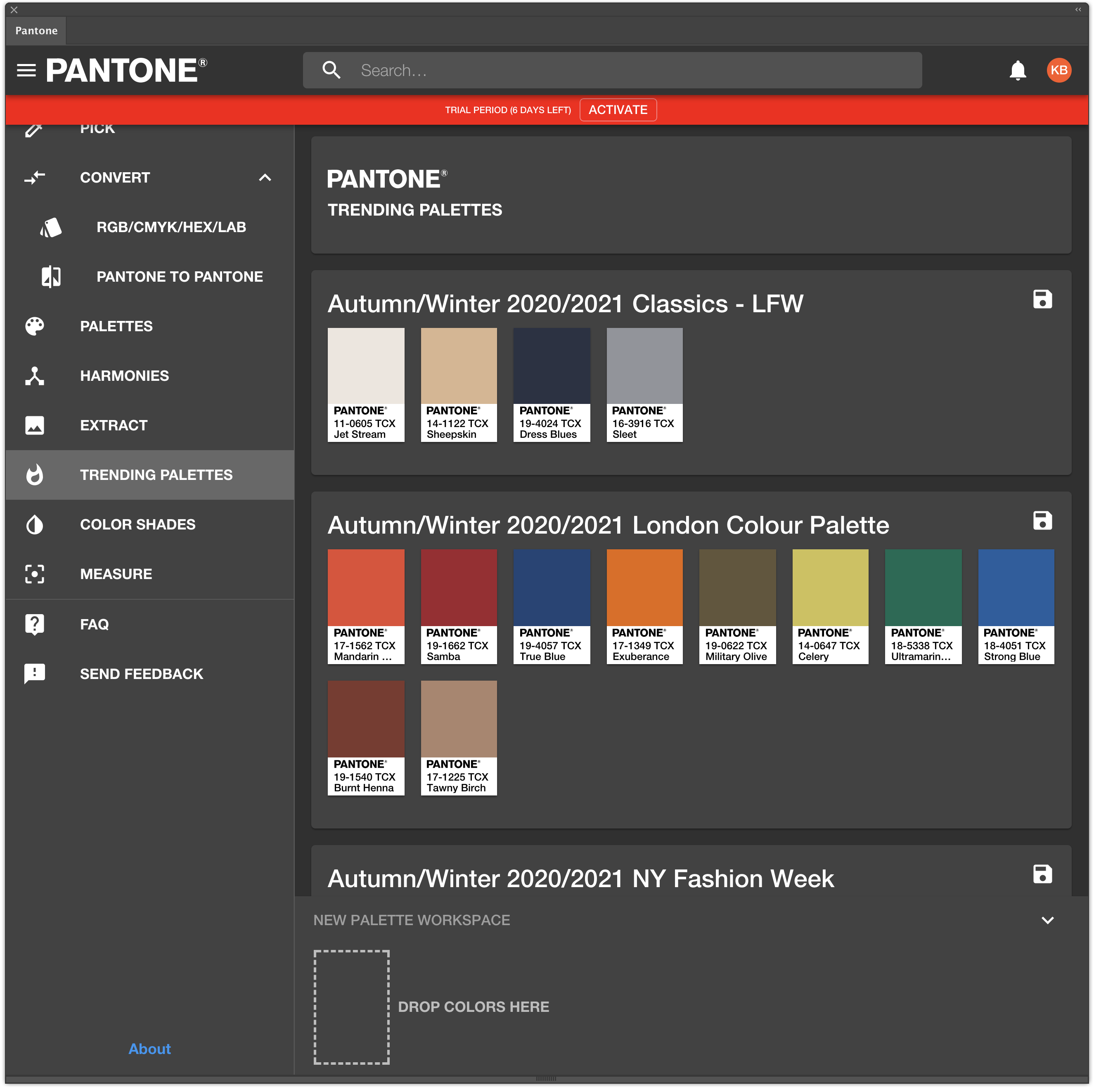 And find color shades if needed.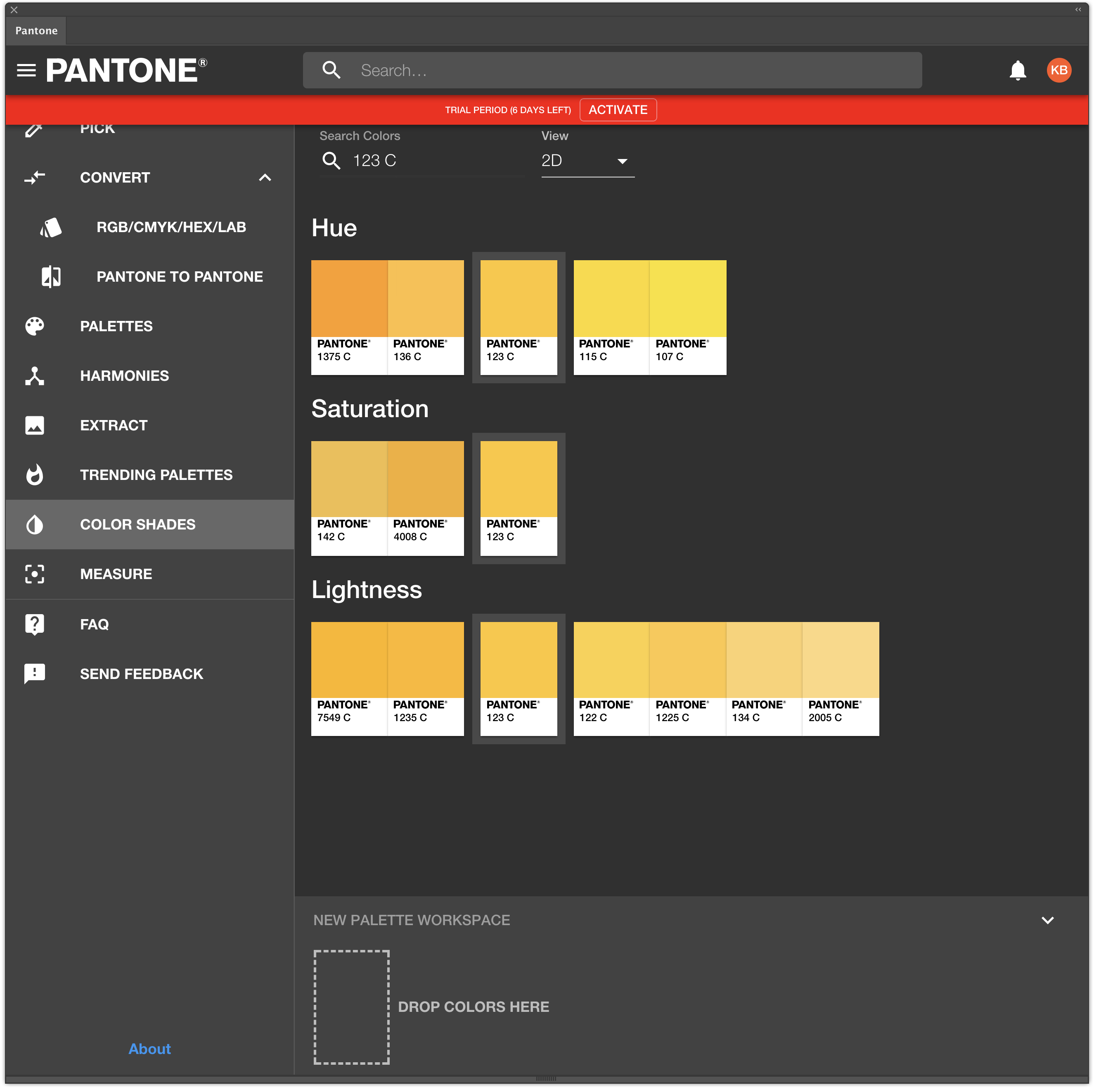 Well, in general, it's very nice to have an extension, that can convert Pantone colors directly in Adobe applications. Even that there are some things, that could be better it can definitely improve workflows for many designers, making their life easier.
While I hope for a more integrated solution I want to find out how good Adobe tools can do the same job, if Pantone libraries are available inside applications.
But I also will be happy to hear your opinion about this extension. Do you think it can speed up your design process? Do you think it's useless? Helpful? Have you some good ideas to a better collaboration between Adobe and Pantone?