А new update for Adobe Illustrator is released and it has some really cool new features. I find the Puppet Tool very useful and the updated Properties Panel is cool.
But there is one thing I am particularly happy about: You can now run your Custom Scripts as an Action!
The function has been there for years, BUT there was a bug in the program, that made the action stop working when Illustrator had been closed and reopened. When Illustrator was reopened, the actions were not functional and you could start to make your actions again from scratch. This bug existed in Illustrator since 2015. 2015! For almost THREE YEARS. But now Illustrator developers have at last fixed it, so we can fully benefit from this super feature! Hallelujah!
So today I'll talk about how to make you custom scripts works as an Action. This is just amazing and I'm sure you will love it.
I have a couple of custom scripts I use every day. As examples: the dimensioning script and date script. The first script I found many years ago here. It is not the only script for that task, if you search on the net you will find some other scripts, that put dimensions on your artwork.
The second one I found here. I customized this script a bit as I only use the date of creation.
How to install and use a script is usually well described on the page you download it from. So I will skip that part, and instead I'll skip to how you can make a custom script work as an action.
Start to open Action Palette. Go to Window and choose Actions.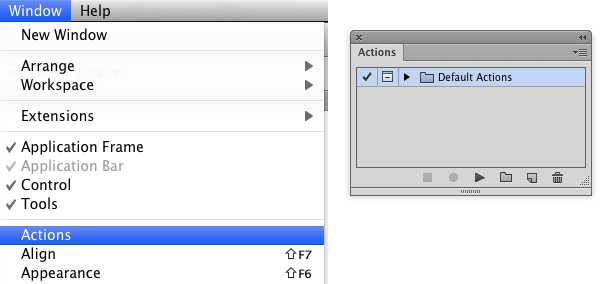 Create your own Action set by going to an upper right corner and choose New set from the drop down menu.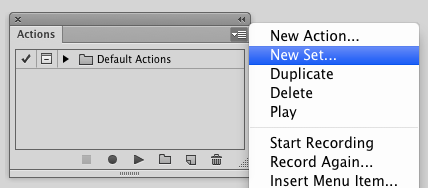 In the dialog box, you can type the name you want to use for your Action set. I called mine for Productivista.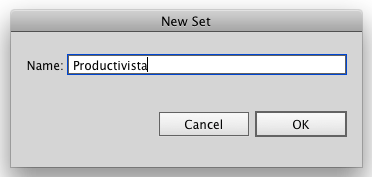 Now you can create a New Action by going to the upper right corner and choose New Action from the drop down menu.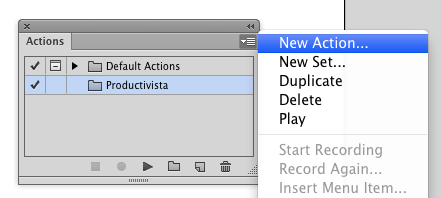 It will open the New Action dialog box. Give your action a name (I called mine for Dimensions) and choose a Function key (I took F7). Press Record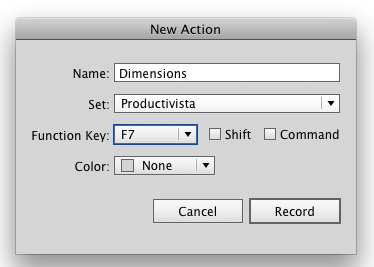 Then go again to Action Palette and choose Insert Menu Item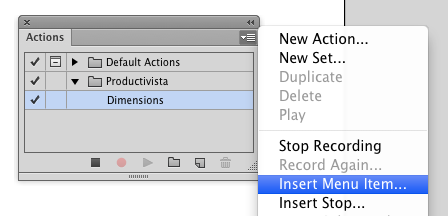 The Insert Menu Item Dialog Box will appear. Start to type the name of your Custom Script in the text field and then press Find. If you saved your action in the right place in your computer its name will be found by the program.

Press OK and then remember to stop recording the action by pressing the Stop Playing/Recording button.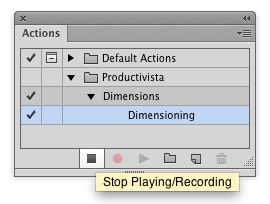 Now you can activate your custom script by pressing the shortcut key. In my case it is F7.

It is really amazing! And after the update, your actions are still there even after you restart your Adobe Illustrator.
The same way you can put your other Custom Scripts to work and it will save you a LOT of time and enable you to work much more productively with your artwork and designs.
I hope you find it useful and will become as fond of this feature as I am.